Sara Hickman's eNewsletter for January 25, 2008
Hello, Happiness!
(Yes, you. Here you are! Rightie-o!)
2008 is in the house! And what is it doing? Is it here to last? No, it is almost February and it is the year that is zipping by fast!
So, here's a short synopsis of upcoming gigs:
In the mood for politics? Check out 1/28...
In the mood for being a part of a live recording?
Come to Poor David's on 1/31...
As Lowell George says, "... home to Virginia..."
That's where I'm headed! Hear me sing to you on 2/4 at a new venue (for me!)
Thinking you want to be part of a dialogue? 2/6 for music with me, Trish Murphy and guest speakers.
Needing coffee and pie? How about 2/9?
Or maybe you need to give your honey a squeeze and listen to songs of love, joy and.... you know what... 2/14 is the Valentine show for you!
I'm feeling invigorated by all the political surprises in the air. I hope you are, too. I hope that something good comes from all of this. In fact, I'm just going to visualize a major change in the U.S., and around the world, right now. C'mon. You see it, too? Let's make it happen.
NEW AND EXCITING
Sara's honored to be included in this new book, "Women in Texas Music: Stories and Songs" by Kathleen Hudson, available through UT Press at the following link:
http://www.utexas.edu/utpress/books/hudwom.html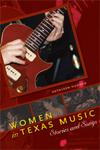 The book includes a diverse group of amazing Texas women musicians, telling their thoughts and feelings on the journey of creating their music and sharing it with the world.
Just nominated to the Board of Directors for the Folk Alliance, Sara will see many of you at the event in Memphis! Rock on.
Sara has been in the studio with Super Pal Universe working with the kids on their debut CD. More info soon...
iolana finished her science project on pennies and liquids. Just thought you'd want to know.
Sara will be coming to Atlanta, Nashville, and more in the coming months.... Hope to see you!
THANK YOU FROM SARA
Thanks to Pam Stakes and the Burning Bush in Corpus Christi for hosting the latest "Music For Life" event. Stacey Earle and Mark Stuart were amazing as storytellers and musicians. Please check out their music if you have yet to experience this talented couple (http://www.staceyearle.com). Big kudos to Brad Brown on KEDT, who helped promote and support the event by having all of us live on the radio. "We the People", a progressive paper, ran a full page story, so a shout out to Judi and Sharie for their help! This was a successful night, with the dialogue intense and educational. Lastly, thanks to Judi and Wayne S. for sharing their comfortable home. I love Corpus!
And thanks to Joe McDermott, musician extraordinaire, who has come on board as music director for Super Pal Universe. Welcome, Joe!
http://www.joemcdermottmusic.com