A Sara Hickman eNewsletter for September 15, 2008
Dear Friends,
This season's hurricanes left devastation for untold thousands who are already dealing with poverty, and, now, many families who are dealing with it for the first time. I ask that you consider helping those affected in the South, Cuba, Haiti, and the Turks and Caicos Islands. Whether financially or through volunteer work, thank you for making a difference in the lives of others.
And while we're talking about the affect we have on helping others, I'd like to share an overview of universal world facts. I encourage you to click on this link to my blog. I promise: it will only take you three minutes and you will be amazed at what you learn.
---
May there be peace wherever you are when you receive this newsletter.
I was in yoga the other day, and I was thinking, "If only we had international yoga day..." We'd all be peaceful, lean, and, yes, sweaty, but a little sweat can move the world!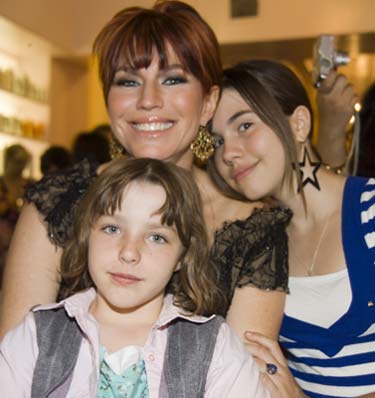 The Bella Salon Makeover Party! Photo by Scott Van Osdol.
What a busy time this has been...school starting for my daughters,
a makeover by the talented team of "America's Top Model" tv show, editing the Super Pal Universe pilot, performing from Canada to Boston and now more dates coming down the pike since I've signed with the Roots Agency! Thanks Tim, David and Charlie for all your hard work (and Lance, Mollie and Gene, too!)
The 12 month/12 city tour of Texas to start the dialogue about the death penalty has only two more events--our event in Waco this month (with the fabulous Austin Lounge Lizards!), and our big finale on October 1 with Kinky Friedman, Mayor John Cook (El Paso), Shelley King, Jon Hogan, me, and possibly, the Lizards, as well. If you can, please come out and be a part of this dialogue---hear great music and amazing speakers, share your thoughts, and taking in the photos of Alan Pogue. This has been a very emotional tour, and I have learned so very much. I hope we can all sing together as we bring this tour to a close.
Lastly, I'll be performing with the Teton Orchestra in October, and the Dallas Wind Symphony at Morton Meyerson (Feb 10) and again for their Sweetheart Swing event on Feb 14! If you like orchestras, and I know you do!, come on out as I have my songs orchestrated AND I perform jazz to dance to! All very exciting, you can bet your bippy!
UPCOMING DATES:
SEPT 18, Thurs
WACO, TX
MUSIC FOR LIFE EVENT
Waldo's Coffee House
http://www.uuwaco.org/waldos.htm
with the Austin Lounge Lizards, speakers
SEPT 20, Saturday
MEMPHIS, TN
The Levitt Shell kids show 5:00 pm
http://www.levittshell.org/schedule.cfm
Then...
Memphis House Concert 9:00 pm
memphishouseconcerts@comcast.net
for more info!
SEPT 26, Friday
FORT WORTH, TX
An Evening with Sara Hickman (w/ band)
McDavid Theatre inside Bass Hall!
http://www.basshall.com/mcdavidStudio.jsp
SEPT 27, Saturday
OKLAHOMA CITY, OK
9 pm
The Blue Door
http://www.bluedoorokc.com
SEPT 30, Tuesday
AUSTIN, TX
The Nutty Brown Cafe (Kids show)
http://www.nuttybrown.com
OCT 1, Wednesday
AUSTIN, TX
MUSIC FOR LIFE GRAND FINALE
Scholz Biergarten
Please join Sara, Kinky Friedman, Shelly King, Terri Hendrix and many others for the grand finale of Sara's 12 month Music For Life tour across Texas!
HALLOWEEN WEEKEND!
Join Sara, Willie Nelson, Los Lonely Boys, and more than 40 other artists from Texas and around the world this Halloween for a weekend of amazing music. And from now until October 5, use this coupon to save 10% on your festival pass!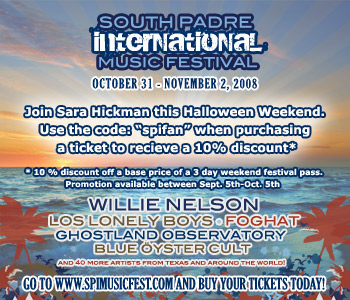 As always, check Sara's Shows page to find more appearances for this fall.
---
LILY SHIRTS!
My daughter, Lily, has an ad for her TEE SHIRT DESIGNS!
"TIGER LILY" at http://www.wiskyclothing.com/lily.html
AUSTIN VOICES
You can also support Lily AND Austin Voices by seeing Lily's ad in the new 2008-2009 Austin Voices Student Planners! The Austin Voices Planner serves as a venue for youth expression and creativity featuring art, quotes, and writing from kids and teens all over Austin. We LOVE Austin Voices!!!
The planners are for sale for $12 at their website: http://www.austinvoices.org
SARA GUITAR SHIRTS
Do you want to see my art on your chest?
Check out:
http://www.wiskyclothing.com/new-gibson.html
Go 7 across, 3 down...that's my guitar I designed
for Gibson's GUITAR TOWN and click it on
and you'll see what the guitar looks like on a black
(or white) tee shirt! This is my guitar that went
for $16,000 (all monies to various Austin charities)
and is now owned by the city of Austin!
Sending love, grace and gratitude,
Sara
PS...Have you read "What is the What" by Dave Eggers?