UPCOMING DATES:
FRIDAY, OCTOBER 17
Westminster Church
3208 Exposition Blvd.
Austin, TX
6:00-6:45 pm
Free show!
THURSDAY, OCTOBER 23
Idaho Falls, Idaho
at Willowtree Gallery. I'll be performing/signing cds in a special gallery opening and as part of Breast Cancer Awareness Month.
FRIDAY, OCTOBER 24
Idaho Falls, Idaho
KLCE: Live in studio radio morning show
http://www.klce.com/
...I'll be working with a children's orchestra at a local school and sharing info on the music industry, songwriting, living a creative life...
...at Mountainview Hospital, 1:00 PM.
The Idaho Falls Post Register will be running a story, as well!
http://www.postregister.com/
SATURDAY, OCTOBER 25
7:30 pm
Concert for Breast Cancer Awareness
Performing with the Teton Orchestra
$14-22
The Idaho Falls Civic Auditorium
501 S. Holmes Ave
Idaho Falls, ID 83401
208-612-8396
http://www.tetonchamberorchestra.org/live/
SATURDAY, NOVEMBER 1
South Padre Island Music Festival
South Padre Island, TX
Kids show at noon
Adult show at 6 pm
http://www.spimusicfest.com/2008/
SUNDAY, NOVEMBER 2
Texas Book Festival
Children's Entertainment Tent (11th & Congress)
Austin, TX
2-3 pm kids show
http://www.texasbookfestival.org/
I'll be sending out a newsletter first week of November to promote some upcoming Houston house concerts, as well... that's right... concertS... plural! A little run of Houston house concerts, back to back fun!
---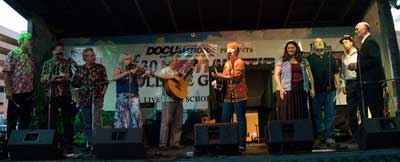 Now that the Music for Life Tour has ended, don't let the dialogue stop. Visit Start The Dialogue to keep the discussion going -- about the death penalty or any other subject. Let's talk about issues, life, and our world. http://startthedialogue.org
---
Alright! And now, a little poem:
Vote!
Because
It Really Does Matter.
Don't let the fat
Cats Get Any
Fatter.
We need leaders
of Humility
Who live to serve
Humanity.
The time is now
Don't let it be said
That we didn't speak out
To change how we wanted to be led.
In Grace and Gratitude and homemade banana bread,
Sara