And, if you happen to be out and about and want to share some music, come out to these upcoming gigs:
SATURDAY, DECEMBER 27
Join Sara for an intimate, unplugged
and relaxing hour of music at:
LAKE AUSTIN SPA
1705 S. Quinlan Park Road
Austin TX 78732(512) 372-7300
info@lakeaustin.com
One of the most gorgeous places to unwind
in Austin, with kayaking, massage, unbelievable
gardens, hiking, incredible food
and daily activities that include music and yoga...
MONDAY, DECEMBER 29
BURNING BUSH COFFEEHOUSE
3707 SANTA FE
CORPUS CHRISTI, TX 78411
852-7349
bambistakes@hotmail.com
7:30 pm New Year's Eve Show!!!
with Sara (and family?)
Come wear your parka on the snowy white
beaches of Corpus, check out their excellent
art museum, enjoy some seafood and then
enjoy a Pre-New Year's Eve Extravaganza of Love,
Laughter and Song with Your Pal, Sara!
JANUARY 6
MUCKY DUCK
2425 Norfolk
Houston TX 77098
w/ Elizabeth Wills
Come out and start the New Year with
some hugs and kisses and great music!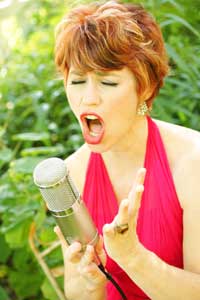 DALLAS WIND SYMPHONY SWEETHEART SWING---FEBRUARY 14, 2009
I'm thrilled to be the guest singer at this year's February 14th
gala. Dancing, an exquisite dinner, silent auction, free dance lessons, and me crooning and boppin' with a Grammy winning wind symphony! Get gussied up in your finest (I'll be the one on stage dressed like Lena Horne!) and come dance the night away with your sweetheart(s)! For more information and tickets, visit: http://www.dws.org/content/view/122/158/
---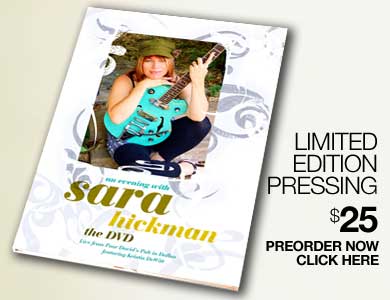 "AN EVENING WITH SARA HICKMAN LIVE AT POOR DAVID'S PUB with Kristin DeWitt" DVD NOW AVAILABLE!!!
Yes! It's here! Whew! And it's me! And Kristin! Live at Poor David's Pub!
Singing! Shenanigans! Hilarity ensues! Tears on occasion! A drink appears! Some call it "tequila"! What happens next? You'll have to see...
All those early birds already got their copies, and now we're already doing a second pressing!!
To order, visit my website
http://www.sarahickman.com/dvd
IN CLOSING
Well, friends, I can't thank you enough. I hope you are surrounded
by love and laughter during these holidays. Merry Christmas! Happy Hannukah! Happy Eid! Happy Winter Solstice! Happy Kwanzaa! We are one world and we just need to continue to talk to one another through love's eyes.
Bless you! I love you!
Sara